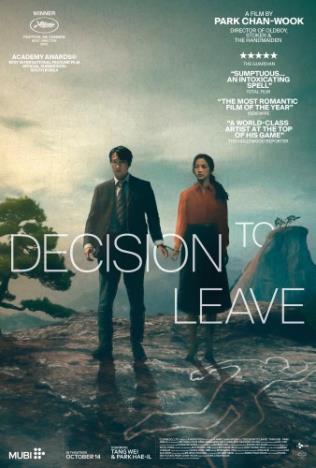 DECISION TO LEAVE
A detective falls for a mysterious widow after she becomes the prime suspect in his latest murder investigation.
Decision to Leave is an exceptional love story and a sublime noir thriller that invites the audience to get lost in a mesmerizing tangle of tension, slow-burning desire and subtle emotions. The resulting experience is a personal and highly satisfying immersion in pure cinema.
Everything starts with a fall. A man who was climbing a mountain is found dead, crashed to the ground. Tragedy? Suicide? Homicide? Handsome detective Hae-jun (Park Hae-il) investigates the mystery. He is a gentle man, happily married and devoted to his work.
Making the case even smokier is Seo-rae (Tang Wei), the elusive, charismatic and impossibly attractive Chinese wife of the deceased, whose charm creeps under Hae-jun's skin. In ways he could have never envisioned, their broken conversations—deciphered through smartphone translations, her composed gestures and mysterious allure—upset his life little by little, making him fall mentally and emotionally.
Login to add to watchlist