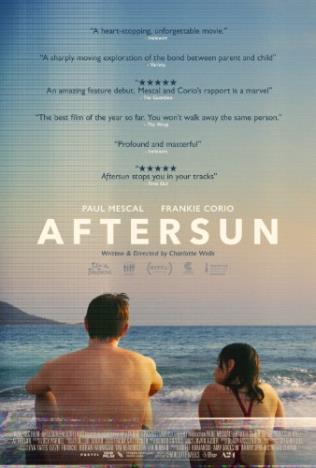 AFTERSUN
Sophie reflects on the shared joy and private melancholy of a holiday she took with her father twenty years earlier. Memories real and imagined fill the gaps between miniDV footage as she tries to reconcile the father she knew with the man she didn't.
Calum and his daughter Sophie occasionally get mistaken for siblings. Having split from Sophie's mum, and having left their Edinburgh home for England, Calum knows how precious their time together is. Their room may only have one bed and there may be unsightly construction around the resort, but that won't stop them from trying to have the best vacation possible. Whether hanging by the pool, taking excursions on the sea, or shopping for carpets, Calum encourages Sophie's abundant curiosity…until he doesn't. Every now and then, Sophie makes enquiries that Calum won't accommodate.
Twenty years later Sophie has found herself looking back on that vacation. It is clearly still weighing on her mind, though it is unclear what has transpired in the meantime.
Login to add to watchlist