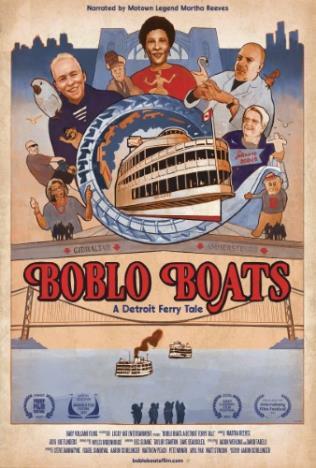 BOBLO BOATS: A DETROIT FERRY TALE
For over 85 years, steamship Ste. Claire transported generations to Boblo Island, an amusement park nestled in the waters between the US and Canada. When the vessel comes under threat of ruin, a doctor, psychic and amusement park fanatic unite to save their beloved steamship from the scrapyard. Interweaving local lore and mythology, Boblo Boats explores the whitewashed history of amusement parks and one crew's crusade to bring back the memories.
Narrated by Motown legend Martha Reeves, the documentary explores the rich history of the island and its boats, while also placing the story in the present day. Before Boblo Island was shut down in 1993, passengers by the thousands reached the amusement park by way of two steamships: the SS Columbia and the Ste. Claire.
Boblo Island and the boats hold a special place in the hearts of many metro Detroiters and Windsorites, but the film isn't just about nostalgia. It is also about now, and the people dedicated to preserving Boblo's history and memories.

The 7 p.m. viewing on Friday, February 10th is sponsored by the University of Windsor Alumni Association.
Login to add to watchlist